TheWooding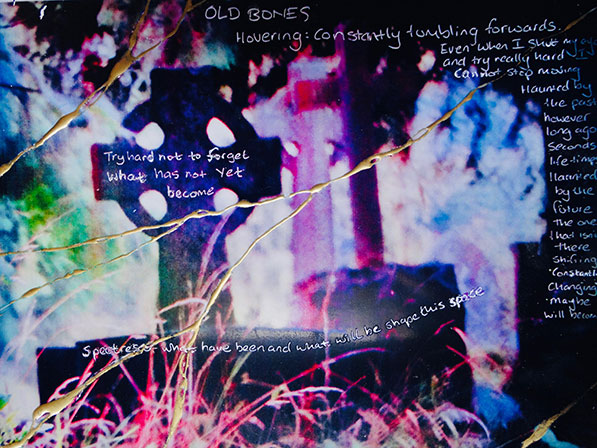 Using a hauntological approach I predominately work with sound, composition, photography, and human movement to research the liminal space between what has happened and what is anticipated.
I am a MRes student at Bath Spa University, my practise led research has a fundamental preoccupation with how a sense of place can be haunted by the spectres of a past and tantalised by the ghosts of indeterminate futures.
OLD BONES

Hovering…Constantly tumbling forwards.
Even if I shut my eyes and try really hard I cannot stop moving.
The space around me cradles me and cages me. Slashes time like skin.

Haunted by the past however long ago, seconds, life times.
Haunted by the future, the one that isn't there, shifting, constantly changing, maybe will become.

Spectres of what has been and what will be shape this space, shape me as I squeeze my eyes tight shut, a state of limin,
this crack that can pervert and divert the way I move, the way I sing, the way I live, the way I dream.

Celebrate this scar, pour gold into the crack, onto my body, soft, palpable, this is not a time to mourn lost time but to
embrace the music let notes bounce from each other, sound lingering backwards and forwards.

Try hard not to forget what has not yet become.